Book Review: Orr: My Story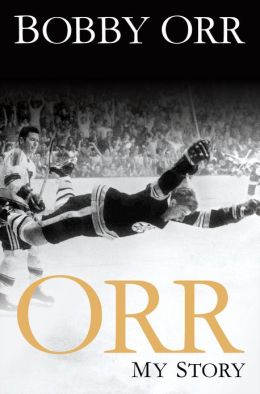 Hang on for a minute...we're trying to find some more stories you might like.
In the autobiography Orr: My Story by Bobby Orr, famous Canadian hockey player Orr retells his life of growing up in the mid-1900s in Parry Sound, Ontario.  One may not expect an athlete as famous as him to write his own life story with such a modest and appreciative tone, but Orr does just this.  
Orr starts the book out by telling stories of his childhood growing up as a young hockey player with a dream to play in the big leagues.
He works his way up to being a from a young player to a professional star athlete in the United States. During his 12-year career, Orr played for the Boston Bruins for nine years and won the 1970 and 1972 Stanley Cup with them.  In this book Orr tells his story from childhood to parenthood and the later life of a professional athlete.
Orr tells his own story in a simple way that the reader wants to keep going through the book. The audience can see the games, the crowds and the whole experience through the eyes of the athlete himself.
He uses this book to tell his story his way while explaining how much has changed in the world of sports.
As a kid, Orr remembers playing hockey in his town much differently than how sports are played nowadays. Things have changed, as he states many times in the book. He elaborates on the costs of playing, the places available to practice and the reasons aspiring athletes to want to be a professional, which are all different now than they were in the 50s and 60s.
Orr speaks directly to how many see money in sports these days.  Often athletes have very high salaries, and Orr is not shy in describing how that takes away from the passion of the game.  Orr focuses on the way the game used to be played because it is enjoyable and something hard to work and be good at it, not because of the money that comes along with excelling.  The money isn't the only problem, but Orr says that it can take away from the game.
Orr talks about his childhood by sharing past important events that lead up to him becoming a hockey star.  He does not leave out any important parts needed, and the writing is well organized and flows easily as read.
Although it is a retelling of his life, there are parts  he discloses that feel more special because they are directly from him.  For example, one image is from the 1970 Stanley Cup, which shows his winning goal. Orr is flying in the air after being tripped, but the puck still goes into the goal. He tells about the moment he saw that picture in a newspaper the next morning when he was having breakfast with his father and friends at a hotel. The way he talks about this moment, one can see that it is specifically important that his father is there and readers can see how proud they both were. These interesting events keep the reader engaged from cover to cover.
He has gotten injured a many times including pulling muscles, head injuries and knee injuries. Orr remembers how painful it was and talks about it in detail, making the reader feel the pain. He easily compares this to what athletes suffer in any other sport because the injury is bad and he longs to get back in the game and play. Other athletes can relate to this feeling.
When many athletes become professional, there is a possibility that the fame and money can change them. Throughout the book Orr shifts the focus back and forth from his life experiences to the importance and appreciation of the sport. As times have changed in the world of sports, fame and money are very much associated with being a pro athlete. He brings this up many times–subtly but strongly–how he feels about it, and he is aware that it is an issue that needs to be brought up again.
One important way Orr makes it known that he likes athletes who do not gloat or make things more important than needed is that he talks about his own accomplishments lightly. When recalling winning a Rookie of the Year trophy, he does recognize that he was honored but he does not ever say or imply that it made him any more special than the next player.
Orr: My Story shows the pure desire of being an athlete for the love of your game, something many young athletes can relate to.
Through professional hockey, injuries and becoming a parent and later on a grandparent, Orr tells the most important parts of his life story that are much more than just the sport itself.