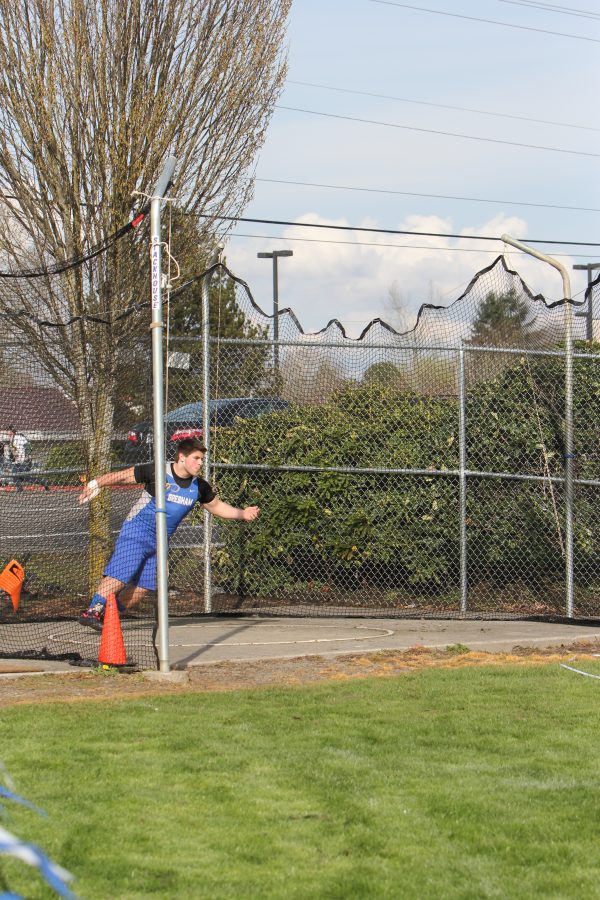 Athletes and coaches alike were preparing for any outcome on Wednesday, Apr. 2 at the first home track meet of the season against North Salem High School.
"We [had] no idea what to expect…it's so early in the season," head coach Chris Koenig said.
Many athletes did not have seed times, which are previous season records in the event, to compare at the start of the meet because of how early in the season it was. Coaches had a feel for the Gopher's strongest areas and had high expectations for senior throwers Brian Salgado and Ken Onyima, as well as sophomore hurdler Leah Russell.
The men's varsity shot put and discus swept the podium as predicted, and were the only varsity events in which Gresham took the first, second and third place points.
Those were not the start of the wins though. On the junior varsity side, the men's 3000m, 1500m and 400m saw an all-Gopher sweep, as well as the women's junior varsity 800m and 400m.
After the national anthem at the beginning, varsity events started with senior Tucker George and freshman McKenna Martin winning the 1500m run for the men and women respectively.
George attributes the win to teamwork with junior Troy (AJ) Ryals.
"I paced my teammate AJ," George said. "He pushed me to the pace I should have been at."
Hearts were pounding and half of the stadium was on its feet in a matter of seconds to watch senior Gre'gonta Brown win the varsity 100m dash by a .05 second photo-finish.
North Salem head coach Don Berger had similar expectations as Koenig at the start of the meet in that each knew their own team's strengths but could not predict the outcome.
He stated their top athlete was their 300m hurdler senior Riley Knebes, who beat Russell by 1.27 seconds.
"We expected to be strong competition," Berger said of his athletes.
Wrapping up the first home meet of the season with the last event being the 4×4 relays, the crowd saw a reversal of the overall meet scores, when the women barely won the relay but loss the meet and the men lost the relay yet still won the meet. On the women's side, Russell was able to pull the Gophers out of second place and win by six seconds during her leg of the run. The men's relay teams all fell a bit short.
After the scores were added up, the men's team beat North Salem 72 – 68, while the women lost 75 – 59. Their next meet is at Reynolds High School Wednesday, Apr. 16.