Julie Rowell winner of the Milken Educator Award
  On Tuesday, Dec. 10 students filed into the aux gym awaiting what they believed to be an assembly from the district about school funding.  Students and teachers were unaware that the real reason they were all gathered was to present esteemed ELD and AVID teacher, Julie Rowell with the Milken Educator Award, an award given to 40 different teachers throughout the U.S.along with a  $25,000 cash prize. 
   For Rowell and many others, it was a total surprise.  After her name was announced by GBSD superintendent Dr. Katrise Perera, Rowell was shocked. She wasn't expecting an award and she especially was not expecting $25,000.
   "I was honestly in shock, it was like I was dreaming," Rowell said
   After the award ceremony, Rowell received a lot of love and support from students and colleagues. Earning the award was a big deal, not only to her but to the school as a whole. Rowell is the first teacher here to earn the Milken Educator Award. Students and staff throughout the school were congratulating her even if they didn't know her.
   "So many colleagues and students have been genuinely happy for me, and of course the award is awesome but it's really touching to see people sincerely happy for you," Rowell said
   Many of her fellow colleagues recognize the extra effort Rowell puts towards her work and her students on a daily basis.
   "There are many great teachers that don't get any recognition so it's appreciated when one of my hard-working colleagues does," childcare teacher Julianne Standish said.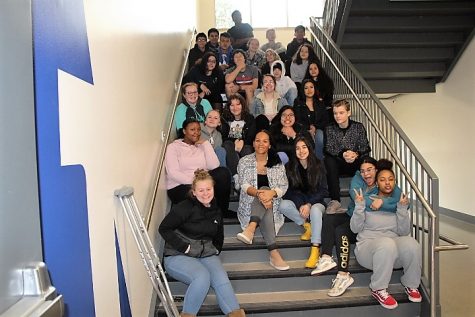 Rowell typically works with students who are trying to become fluent in the English language. She is a bilingual teacher who speaks both Spanish and English and that allows her to have a deeper relationship with more students and their families.  
   "She has worked very hard creating a safe learning environment for new arrivals in our district. She has pushed the district office to improve access for students who don't speak English as a first language at home," Spanish teacher Alison Brink said
   Rowell is known for building her relationships with students and making sure they are successful at school and that they have an environment at home which also ensures success. 
   "Mrs.Rowell is always on her students. She doesn't only care about the grade you have in her class she cares about all your grades and making sure you can be the best person." junior Jayden Reitzell said
  Rowell works hard to create a peaceful workspace in her classroom that makes her students feel comfortable and allows them to utilize their surroundings to achieve success.  
   "She wants to see her students succeed and she will go above and beyond to make sure they do. She makes sure we succeed at school and at home," junior Emmonee Flanagan said.
   Rowell did not achieve her current success as an educator on her own.  Along the way, Rowell has had many mentors who have taught her useful things to benefit her teaching career.
   "I have a lot of mentors, my colleagues here who teach AVID and teach ELD, we work collaboratively and I've learned a lot from them," Rowell said
      Rowell has many plans for the $25,000. She plans on donating a portion to an immigration refugee organization and putting some money aside for herself and her family.