BOOK REVIEW: The Secret Life Of Bees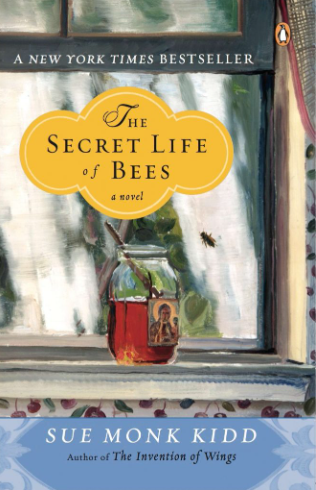 "The queen, for her part, is the unifying force of the community; if she is removed from the hive, the workers very quickly sense her absence. After a few hours, or even less, they show unmistakable signs of queenlessness." -Man and Insects
   The New York Times Bestseller The Secret Life Of Bees by Sue Monk Kidd, is a true tear-jerker, even for the strongest of hearts. The novel is set in South Carolina in 1964 and tells the story of Lily Owens. Lily is a fourteen-year-old whose life has been centered around the memory of her mother's passing. She remembers that night clear as day; the suitcase, the sound of a gun, everything. The story officially begins when Rosaleen, Lily's housemaid/stand-in mother, faces the town's biggest racists. 
   Racism in this time period was intense; the Civil Rights Act of 1964 was just created, which ended segregation in public places and banned discrimination with employment relating to race, color, religion, etc. After this law was enacted, Rosaleen wanted to register to vote, which led to a major conflict. Lily and Rosaleen then run to Tiburon, South Carolina, because it's full of Lily's mother's memory. Lily and Rosaleen find themselves at a bright pink house owned by a trio of beekeeping sisters. 
   The Secret Life Of Bees touches on sensitive topics such as racism, mental health, religion, grief, and abuse. Kidd represented them beautifully. We learn of Rosaleen and the Beekeeper sisters: August, May, and June, and their own history with racism. As well as Lily's experience with grief, loss, and her abusive father, T-Ray. Even with these difficult topics, the story still has touching and positive moments, the perfect balance. Even though Lily is a white girl, the sisters take her in with open arms, all except for June. June has a distaste for Lily because of August's past with white people and Lily's family. Lily still felt at home with the sisters instantly, more at home than she's ever felt.
   The symbolism, imagery, and voice in this novel are outstanding, readers can easily picture every scene and practically feel the emotions the characters are going through. Everything was well described: Lily's anger was perfectly explained, August's calming presence seeped through the pages, and May's strong emotions are described in a way that allows readers to empathize. Even June was written in a way where you can practically see her body language toward Lily, or hear her remarks. 
    Black Mary is a religion the beekeeper sisters follow, as well as other women in the town. Black Mary is a motherly figure to the women. The religion gave Lily a sense of community and femininity around her that she never had before. The symbolism and imagery behind Black Mary is precise and realistic. The ceremonies held for her and the stories August tells are so detailed and enticing. 
   The Secret Life of Bees is an emotional roller coaster, but as the novel continues it's difficult to put down. The ending ties everything together beautifully. There are lessons readers can use in day-to-day life hidden in an intense story. This story brings tears, smiles, and thought-provoking topics all in one. Throughout the novel I found myself gaining a new perspective, the way August could still be so motherly in the hardest of times, or how Rosaleen had trust in Lily when she had every right to take control of the situation. Reading The Secret Life of Bees can best be described as a hug: tender and emotional. This is the perfect book to read wrapped up in a blanket with a warm drink. If I had the ability to read this book for the first time again I would take that chance in a heartbeat.