Taylor Swift Breaks Records with New Album: Midnights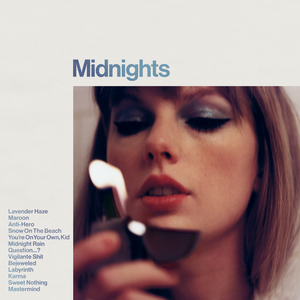 On October 21st, Taylor Swift released her 12th studio album, Midnights, telling "the stories of 13 sleepless nights throughout [her] life." The long-awaited album became record-breaking. Within 24 hours of its release, it reached 184.7 million streams on Spotify, according to Insider, surpassing Drake's Certified Lover Boy at 153.4 million streams. It also caused her to become the most streamed female artist in Spotify history, and "the first to cross 35 billion streams across her catalog," according to J-14.
   Swift first announced the album at the 2022 MTV Music Awards on August 28th, while accepting the award for Best Video for her short film, "All Too Well (10 Minute Version) (Taylor's Version)." She had been fairly active with the rerelease of her albums Red and Fearless, as well as two songs off of 1989, but this marked her first release of new music since quarantine, where she released two indie-alternative sister albums: folklore and evermore. 
   The standard edition of the new album has 13 tracks, each one with themes from her other pop albums. However, several other exclusive editions have been released across stores, such as the Lavender Edition sold at Target. Throughout the album, Swift writes about her relationships, whether making peace with those that failed or savoring the moments of her current one, reflecting on her success, or providing an intimate view of her insecurities and critical view of herself. 
   The first track on the album is called "Lavender Haze," and true to the album's aesthetic, the song has themes of 70's retro pop. The song is supposedly about her relationship with actor Joe Alwyn, and the imposition from the media throughout their six years together. It's the perfect intro to the album due to the lyrics "Meet me at midnight" at the very beginning, and the energy of the song gives an image of the theme of the album, with its imagery and lyricism. 
   The second track, "Maroon," has beautiful lyrics and is sentimental and reflective. There are many speculations as to what the song could be about, but it tells the story of a passionate relationship bound for heartbreak, and how it stuck with Swift for a long time afterward. The way she describes the things she associates with the color Maroon is similar to her lyrics from "Red," off of her studio album and re-recording.
   "Anti-Hero," the third track and lead single on the album, was described by Swift as "one of [her] favorite songs that [she's] ever written." The song explains her insecurities and self-deprecation, and "is a guided tour through all the things [she] hates about [her]self." The song, with its deeply personal lyrics, has held the title as #1 on the Billboard Hot 100 charts since the album's release. Through social media, fans have posted videos of their first time listening to the song and many had tears in their eyes. It was an immediate trend across Tiktok and Instagram reels. 
   A few hours after the album dropped, Swift released a whimsical music video for Anti-Hero, with many of her signature easter eggs and artistic but quirky visuals. After its release, the music video received criticism that deemed her as being "fatphobic," because of a scene where Swift is standing on a scale that spun to the word "fat," representing her history of disordered eating. Because of this criticism, she "was forced to minimize her disordered eating," according to Rolling Stone, by having to remove that part of the video. 
   After "Anti-Hero" is "Snow on the Beach" featuring Lana Del Rey, a collaboration that was apparently long-awaited and speculated about since photos were shared of the two with her occasional co-writer and producer Jack Antonoff. Del Rey was present in supporting vocals, second in emphasis to Swift's, which provided the song with more of a haunting tone despite having dreamy and overall happier lyrics than the rest of the tracks on the album. Fans were disappointed hearing Del Rey's small role in the song, and many felt she was being "pretty audibly buried" and "barely getting a full sentence in" critic Wolfgang Ruth from Vulture said. 
   The fifth track is called "You're On Your Own, Kid," and Swift sings about her struggle with fame, and the unrequited passion and effort that she had to put into her image while she faced the universal difficulties of growing up. The song begins upbeat but slowly becomes more sentimental and personal, not just in lyrics but in musicality and tone. Swift referenced the title of the song in her speech at NYU, where she received a Doctorate in Fine Arts in May. 
   "Midnight Rain" is the sixth track, and the song has more of a synth-pop sound while Swift sings about leaving behind the comfort of a healthy relationship to avoid settling, or ending it to focus on her career. The song features a distorted edit of her own voice at the beginning and during the chorus, adding to the interesting vibe of the song. 
   The seventh track, "Question…?" is another upbeat narrative from Swift. As with the rest of her songs, her fans have rushed to social media to determine and share their thoughts on who the song could be about, and according to them, many signs from the lyrics and melodic patterns in the song point to Harry Styles. The song seems to be about Swift reminiscing about what went wrong in her relationship and she would "like some explanations."
   The eighth track, "VS," is the shortest track on the album, and is about Swift obtaining revenge, possibly against Scooter Braun, the man who owns her master recordings and sold them for $300 million without her permission. In the song, she references her desire for revenge, Braun's divorce, and how he was reported to the FBI because of his crimes. On Tiktok, Swift released a five-second video singing the opening lyrics: "Draw the cat eye sharp enough to kill a man," with cat eye makeup and diamond jewelry. The visuals of the TikTok encapsulated the overall aesthetic and "vibe" of the song, with its minimalistic but dark tone. 
   "Bejeweled" is the ninth track, and like "Anti-Hero," the song is accompanied by a music video. The song is about Swift feeling unappreciated in her relationship, or "put in the basement" by her partner when "[she] wants the penthouse of [his] heart," and leaving to keep her faith in herself and her "sparkle." It's upbeat, and it's one of the happier and mood-boosting songs on the album. 
   The next track, "Labyrinth," is back to being somber and quiet, as Swift sings about her fear of falling in love again in her new relationship, and her fear of getting her heart broken, as well as being amazed at how well her partner treats her. The song has unusual electronic elements but has spoken to and resonated with her listeners as she describes her insecurities. 
   The eleventh track, "Karma," was another long-awaited song on behalf of her fans. Going back to Swift's Reputation era, fans expected "Karma" to be a concept album on the side of her 2017 album, and showed their excitement for the song through social media. The song is about how everything in her life is working out for her due to her minding her own business and doing no wrong, and how everyone who's tried to put her down or wreck her success in the past is paying their due. Swift has said in previous interviews that she is a firm believer in karma, and the idea that what comes around, goes around. Through her metaphors and imagery in her lyrics, true to her style, Swift shows that she's peaceful and accepting of whatever struggle comes her way because she knows it'll work out for her in the end. 
   "Sweet Nothing," the twelfth track, was co-written by Alwyn, and although there have been other tracks referencing their relationship on the album, this one is by far the warmest and most tender. She and Alwyn have collaborated on a few songs before off of folklore and evermore, and fans were happy to see another one about how much they mean to one another. 
   The final track, "Mastermind," is another song exposing Swift's thought processes. "Swift seems to argue that for women, being overly calculating is the only way to win in a cutthroat world," Time Magazine said. The lyrics explain the measures Swift has to take regarding her public image and her relationships, and the control that she feels she has to have over her environment. She argues that she always "knows exactly what she's doing," and that it "was all by [her] design."
   The album overall is quite the leap from her last project, with its acoustics and cottagecore-esque sound. Experimenting with synth-pop and vintage musicality in Midnights, Swift yet again has entranced the internet and broken nearly impossible records because of her artistry in her songs, and the if-not-obnoxious loyalty of her fans. 10 out of the 13 tracks off of the standard album are currently in the top ten slots of the Billboard Hot 100 charts, with "Anti-Hero" taking the lead, and this has made Swift the first artist in history to hold all top ten slots at once. Fans and critics are now wondering: what record will she break next, and what's her next move to excite her fans and dominate the music industry?