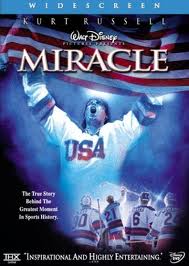 There are definitely some sport movies that stick out more than others. That feeling of warmth when something good happens in sports is the ultimate sense that some people love most. Like when Miracle On Ice happened, or when a homeless black young man turns around and blindsides everyone by his enormous football capability, or when a true story about a high school baseball coach turns into an MLB player due to the inspiration and belief his boys on the high school team had for him. Sports and history may not always coincide but there are some moments in history where sports have left their mark.
Created are the top five sports films created in the United States. Some, fiction and non-fiction and all will leave an impact after being watched.
1. Miracle
2004, PG 135 Minutes
The film tells a true story about when the US Olympic Hockey team beat the undefeated Russians in the 1980 Olympics. The team was coached by Herb Brooks, and no one believed the hockey team would ever get that far.
This movie shows what it is like to really work hard and dedicate your time to something: not for your parents or friends, but for your team, your coach, your nation and, most importantly, for yourself. At first the team does not always get along, but the adversity in the beginning, brought the team even more together in the end.
2. Remember the Titans
2000, PG 113 Minutes
The film is a true story of an African American coach who is appointed as a new high school coach in an area where racial background is crucial. If he lost one game, he lost his job. On his first season he not only brought glory to himself with an undefeated season, but to his team, school, neighborhood and family.
The color of ones skin does not affect his true character and this film demonstrates what it was like for African American athletes at the beginning. At the end of the movie, the color difference is irrelevant to brothers who sacrifice themselves always for the team first.
3. The Blindside
2009, PG-13 129 Minutes
The Blindside tells a story about Michael Oher, a homeless boy who soon became a first round draft pick in the NFL, as well as an All American. He was able to become this with the help from a nearby woman and her family. The struggles his life first threw at him turned him into one of the most sought after football players.
The compassion in this film is overwhelming. The way a woman takes a homeless young man into her home and changes his life is astonishing and yet she claims he is even changing her life in more ways possible than she is changing his. During Oher's first high school football season he is timid; however by the end of the season, the compassion he feels for his team is something to be looked at by all sports gurus.
4. The Rookie
2002, G 127 Min.
This motion picture is a true story about Jim Morris who had a famous MLB career. Morris was a Texas High School baseball coach, and after the team saw his pitching skills, they bet him if they made it to the playoffs than he would have to try out for a team. After wishful thinking and not really believing the team would make it to the playoffs, he agreed and in the end the team does better than expected and does make it to the playoffs. This changes their coaches views on his own dreams.
It is amazing what a few words–or a team of young athletes–can do to change a person's whole life. This film really gives the chills and reaches out to the belief that anything is possible if more people just believed.
5. Hoosiers
1986, PG 114 Min.
The feature is about how a new coach comes to seek out a local Indiana basketball team. He is not had a very good past and furthers the questions from the town by hiring a local drunk. The team is small and disciplined, the coach gains the confidence and trust from his team well enough to then take the state title.
The film is all about trust, between a coach and his town and team. Before the wins could start happening, he needed his team to trust him and this was the case at first, which had the town pressured with the question of whether he should even be there. When a team leader steps up to the plate and says he will only play for this one coach, everyone begins to rethink their presumptions and the real magic of basketball starts to happen. "If you put your effort and concentration into playing to your potential, to be the best that you can be, I don't care what the scoreboard says at the end of the game, in my book we're gonna be winners," Coach Norman Dale said.