Welcome to the new superintendent of GBSD, Dr Perera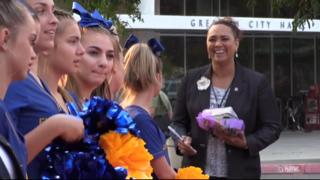 As of May 2017, Dr A Katrise Perera is the new superintendent of the Gresham-Barlow School District, as previous superintendent Jim Schlachter revealed he was retiring.
  Originally from Virginia, Perera has been working in schools since 1994. She had begun with teaching sixth through eighth grade, and Perera soon realized that she had found her calling in education.
  "It's where I found my purpose in life," Perera said. "I'm here to serve students."
  She was recognized as National Superintendent of the Year in 2015 while serving the Isle of Wight County School District in Virginia.
  Perera previously worked on bringing underperforming school districts up to fuller potential, so Gresham-Barlow is a change for her.
 Serving as superintendent for the district will be a chance for Perera to work with a school district that is not struggling or underperforming severely, and raise the district to its fullest possible potential.
  Perera's year one plan is to listen and learn about how schools in the Pacific Northwest differ from those in the South.
  So far she has been holding focus groups consisting of students or teachers, to find out what they like about the school and what they hope to change.
  After she has adjusted to the way things work, she plans to work on making improvements throughout the district, based on what she has heard from the focus groups.
  "The biggest goal (right now) is to learn how I can serve Gresham," Perera said.
  Though she believes it does not define her as a superintendent, Perera is the first woman of color to serve in the position, and hopes she can encourage children who want to become educators to reach for that goal.
  "Statistically, I've kind of beat odds in two categories," Perera said.
  Perera's biggest objective is prioritizing what is best for her students, and it will be interesting to see what she does for the district in the position as the year progresses.