Gresham puts on the last One Acts plays in the current auditorium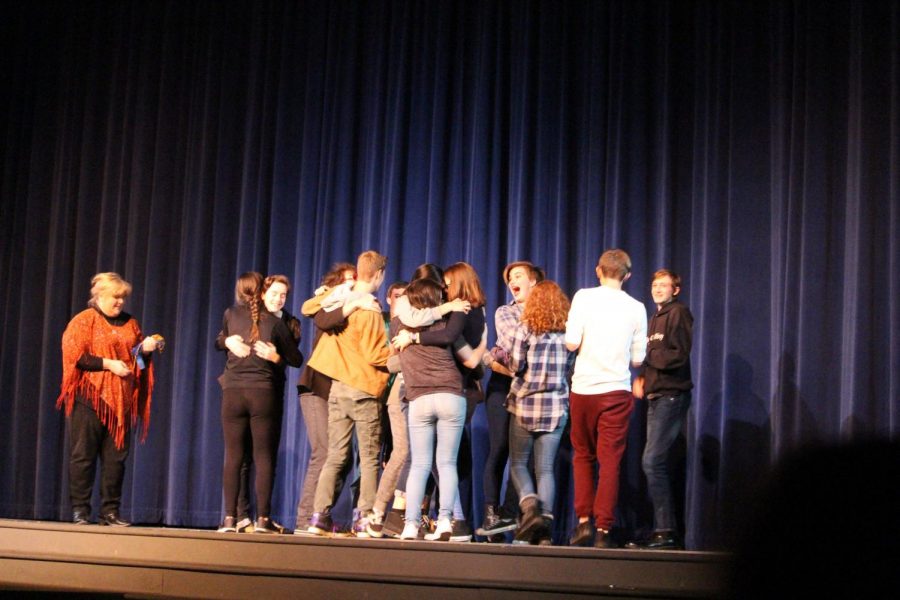 Amellia Wells, Staff Writter
January 30, 2018
On November 9-11, the Drama Department put on their annual One Acts in the auditorium to raise money for their upcoming musical Les Miserables. All One Acts were strictly directed by senior students in Theatre 7-8.
  The lineups for this year´s One Acts were ¨Game of Tiaras¨ directed by Karissa Lobue and Payton Roebuck, ¨The most cliched elevator play in the History of the Universe¨ directed by Zach Alloway and Andrew Diedrich, ¨A funny thing happened on the way to fifth period¨ directed by Kaitlyn Allison and Hannah Ren, ¨The Greek Mythology Olympiaganza¨ directed by Mat Cornett, and ¨Don't fear the Reaper¨ directed by Kendall Meyers and Robert Harris.
  On November 11 the drama department had an award ceremony and announced ¨A Funny Thing happened on the way to fifth period¨ to be the winning One Act, that they now get to take to the One Act festival at Clackamas Community College in February 2018.  
  "(It felt) pretty darn good, it was a relief almost," Senior Kaitlyn Allison, one of the directors of the One Act ¨A funny thing happened on the way to fifth period¨ said.
  An actor from the production was very happy to be a part of the whole experience, all though the One Act she was in did not win. She said even though they were not the winning One Act she still liked the script that they were given.
  "I was really happy with the part I played and the script itself." Junior Julia Adams, who played the narrator for the One Act ¨Game of Tiaras¨, said.
  Even though not every One Act could win, a lot of the actors and actresses were very satisfied with their roles and still being able to be part of the play, and the whole experience all together.
  Kendall Meyers one of the directors for "Don't Fear the Reaper" was very passionate about her and her co-director Robert Harris' One Act coming to life. She had been in One Acts for the past three years and was finally living her dream of being the director of one for her senior year.
  "Leading up to the One Acts, I was really excited to finally direct one, after being in them for the past three years. It felt like a dream come true seeing my One Act finally performed on stage in front of an audience. I was so proud of my co-director Robert Harris and my cast for making our vision come true." Senior Kendall Meyers, one of the directors of the One Act "Don't Fear the Reaper", said.
  Overall the One Acts was a big success and brought the drama department to their fundraising goal, in order to fund the musical. They are now currently getting ready for their Les Miserables spring production.