The Albums of Summer 2018: Best and Even Better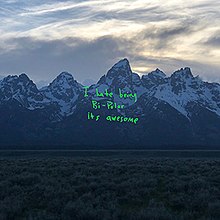 Omar Carrillo, Staff Writer, Opinion/ Review editor
November 1, 2018
1 – Pusha T – DAYTONA –  8.5/10
-A brilliantly energetic and creative start to the G.O.O.D. Music label's summer release spree.
2 – Kanye – Ye – 9.5/10
-West's 8th album does not disappoint in the slightest; delivering his classically masterful producing and rhyming, he fills this short 7-track release to the absolute brim.
3 – KIDS SEE GHOSTS – KIDS SEE GHOSTS – 10/10
-A legendary collaboration between artists Kanye West and Kid Cudi, showing off the best of their strengths in an amalgamation of pure talent.
4 – Teyana Taylor – K.T.S.E. – 7.5/10
-Taylor's second release of her career marks her first propulsion into the mainstream, with impressive vocals, songwriting, and production to boot.
5 – Nas – NASIR – 7.5/10
-A very notable and interesting take on the modern black experience, Nas returns with an album that arguably brings him back into acclaim.
7 – Drake – Scorpion – 5/10
-Drake's personal style is enjoyable, but frankly difficult to not grow tired of in this 25-track long project, and his lack of experimentation may make a listener not feel as though it's worth it to come back for more as well.
8 – Travis Scott – ASTROWORLD 8.5/10
-Through years of hard work and almost comical anticipation proceeded it, Travis Scott truly did not disappoint in the sheer quality and love put into making this one of the best releases of the summer.
9 – Mac Miller – Swimming – 8.5/10
-Miller's final project before his untimely passing truly leaves his career on a high note forever irreplicable.
10 – Panic! at the Disco – Pray for the Wicked – 8/10
-This legendary group's 8th album strikes with a uniquely interesting and handcrafted-to-perfection sound.
11 – Childish Gambino – Summer Pack + This is America – 8/10
-With smart political commentary and musical prowess galore, Gambino's summer releases only further cement his one-of-a-kind creatively brilliant mind.
14 – Gorillaz – The Now Now – 9.5/10
-Only a year after their previous release, Gorillaz delivers an album untraditional to their style with absolute grace, ingenuity, and deeply appreciative care for its craft.