Track: Off to a Running Start
Agustin Rodriguez, CUB Writer
April 20, 2019
Spring sports are underway and the track and field team is off to a "running" start.  The track team is known for being accepting of all levels of runners.
  "They accepted everybody in track and [want] them to be at their full potential" freshman Tyler Hockert, a shot putter, said.
 The track team is also a great way to meet new people.
"The best part about track is meeting new people, getting to know them and just having a good time," senior Sergio "Tony" Ramirez, a runner, said.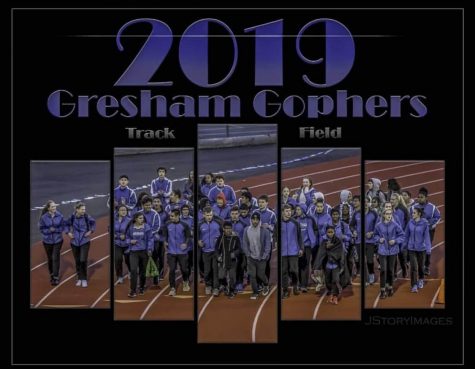 Another thing is that makes track different than other sports is "the culture because there's like some recurring jokes that people make," junior Mitchell  Dorsey Runner said.
 Track and field are more than just a sport where you can meet new people, it can also help students to improve their overall health.
 "I have trouble breathing, pain comes to me when running and I start coping with everything.  My asthma got better and I got better at breathing and running longer [distances]," Ramirez said.
 Running, and other track events can be a great workout and can make you feel an adrenaline rush.  
 "Endorphins are insane and give you a good feeling during a good workout, there's no feeling like that in the entire world," Dorsey said.
 Besides running, there are many other events that are part of track and field.  These include: various relays, hurdles, javelin, shot put, discus, and jumping.
"When I am able to throw the shot put it takes a lot of strength and energy. So when I'm finally able to beat my personal best it feels great." freshman Tyler Hockert, a shot putter, said.
 The track coaches take the time to help students excel in each event they are interested in,  making the sport enjoyable for the members of the team. They encourage all members to do their best.  
 "I enjoyed being around all those guys creating a real positive atmosphere where we learn how to work hard and set goals," P.E. teacher and head track and field coach Chris Koenig said about his team this year.
  The track team has been doing well this season. For example in the track meet against Salem Academy and North Salem on Wednesday, March 20th,  they scored second across the board with men's varsity scoring 161, men's junior varsity Scoring 121, women's varsity scoring 122 and women's junior varsity scoring 75.  Some of the best scores were in women's varsity long jump with senior Fechi Mmereole coming in first jumping 17 feet. Senior Joel Yasin scored first in the 200 meters running it in 23.26 seconds.  The next meet will be here at Gresham high school on the 17th of April, so make sure you go out and support the team.