National Novel Writing Month
An Annual Writing Event for All Ages
For the writing community November brings National Novel Writing Month. This event lasts the entire month of November. The goal for participants is to write 50,000 words in one month. There is however a Young Writer's Program that allows people under 18 to create goals that cater to them. 
  According to Nanowrimo.org, "NaNoWriMo helps you track your progress, set milestones, connect with other writers in a vast community, and participate in events that are designed to make sure you finish your novel".
    NaNoWriMo is an event that takes place world-wide, but you can participate from the comfort of your own home- or wherever you choose to write.
   People discover this event in many ways, whether it's through watching Booktube, reading a book, or a friend participating. This event can bring people together and allow them to connect as writers.  
   "The first time I heard about it I was watching Booktube [and thought] 'that's a good idea, I'll do it'," senior Lex Klementis said. The first time she participated was in July, during one of NaNoWriMo's smaller events called Camp NaNoWriMo. She mainly worked alone but found support in her writing endeavor in her friends. "It was nice to know someone I knew to talk to about projects with."
   This is actually the 20th anniversary of NaNoWriMo. Every year they have a new theme for their merch and page designs. 2019's is time-machine-inspired.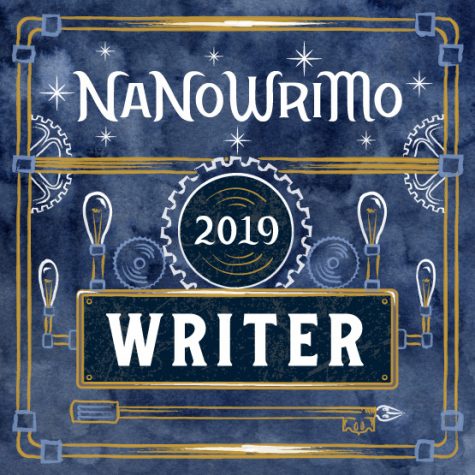 NaNoWriMo is a thriving community of writers who are looking for that push to get them to work on something, "I have had a plot and basically a background for 4 years. I wanted to really get that push now that I've got it situated," Klementis said. 
   The traditional way of participating is by trying to write 50,000 words in 30 days, which can create quite a time-crunch. Other people freeze up under high tensions, but fear not! Through NaNoWriMo there are  places to talk with other writers in their forums. The forums offer writers a place to talk about their projects, how to juggle life and NaNoWriMo, how to avoid procrastination, and much more. In addition, there's an official discord channel for PDX, which Gresham is included in. The discord channel is meant to give another form of support to writers.
   NaNoWriMo recently vamped up their site, which gives writers more tools than ever to write the novel of their dreams.
  NaNoWriMo can be a great jump off point for many writers as it gives them tools to learn and grow in a community full of people who share at least one thing in common with them. Writers can then use those tools to write things that have the possibility of being published.   
   "It's a start-up incubator for novels (books like Water for Elephants, Fangirl, and WOOL began as rough drafts in November!)," NaNoWriMo said on their website.
   Part of the appeal of an event like this is to show yourself just how far you can go. In a way, writing is a sport: you train to write faster, to get into the zone, and to create habits.
   NaNoWriMo even says, "It [NaNoWriMo] tracks words for writers like Fitbit tracks steps for the ambulatory."
   This can be a really rough thing to take part in, but there are loads of resources out there for you to use if you wish to participate, or are even just thinking about it. You can access these by looking up NaNoWriMo and watching Youtube videos or reading blog posts about people's experiences participating.
   There are some students here at GHS who have participated. Klementis, freshman Jessica Gunther, and more. While not directly related to NaNoWriMo, English teacher Alethea Work and some students are in the process of starting a writing club at GHS, where students can choose to work on NaNoWriMo.
   Gunther offered a tip to people who want to participate in NaNoWriMo: "If you start, start out dedicated and it'll work out in the end. Set a goal. Start off strong and it'll flow."