Shows to Binge During a Pandemic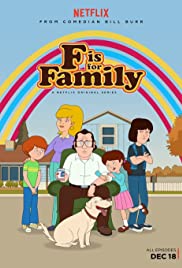 During the pandemic, there are limitations to what people can do to occupy their time. The only people we can be around are relatives. There are options like board games, video games and most importantly, television. 
Many new shows have come out over the past ten months, but sometimes it's good to return to hidden gems.
   "I would definitely recommend F is for Family, written by my favorite comedian, Bill Burr. It's absolutely hilarious and you don't have to look into it too much, but you can still understand what's happening," senior Ethan Weller said.
  According to IMDB,  F is for Family is a show about the Murphy family in the 1970's when kids roamed wild, beer flowed freely and nothing came between a man and his TV. This show has a solid cast of characters with Bill Burr as Frank, Laura Dern as Sue, Haley Reinhart as Bill, Justin Long as Kevin ,and Deby Derryberry as Maureen. The show is currently streaming on Netflix and is rated TV-MA for nudity and strong language.
   "Grey's Anatomy is a good show to binge watch because it can be heart warming and has a lot of drama. It can make you emotional and has surprises." junior Jocie Calhoun said.
   Grey's Anatomy is a drama centered on the personal and professional lives of five surgical interns and their supervisors. This show started airing in 2005 and can be found on Netflix.
   "I recommend Naruto because as you watch it, you will also learn about how an orphan hated by his hometown becomes the leader/Hokage," an anonymous senior said.
   According to IMDB, Naruto is a series that aired between 2002-2007 is about Naruto Uzumaki, a mischievous adolescent ninja who struggles as he searches for recognition and dreams of becoming the Hokage, the village's leader and strongest ninja. This show is Japanese anime that is rated TV-14 and currently streaming on Netflix and Amazon Prime.
   I recommend watching The Office. This show came out in 2005 and stars Steve Carell as Michael Scott, a regional manager for a paper company, Dunder Mifflin. This show is a mix of comedy and drama, with 9 seasons and can be found on Netflix.