Gophers water polo girls on the rise: determined and unbreakable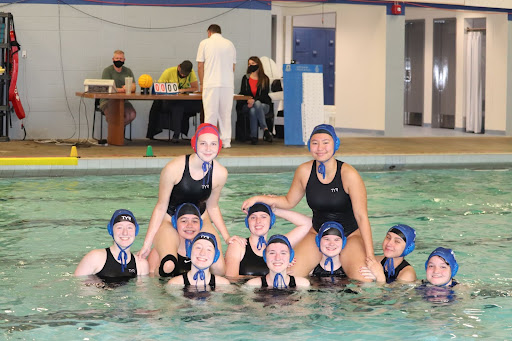 The ref raises their palm with a whistle in hand, as two teams around the pool mentally prepare themselves for the game ahead. Many of these players are just ordinary people before heading out to compete; they think of friends, dreams, good grades, and personal interests. But all that goes away when they enter the pool, as they maneuver around the pool violently yet gracefully, using the training instilled in them against their opponents.
   With the large number of sports during the fall, such as football, cross country, and soccer, it can be very easy to overlook the water polo team. As of 2021, there were not enough boys to form a team this year, and only one head coach for water polo as a whole, leaving the GHS varsity girls team to fend for themselves against opposing girls and boys teams.
 Because of this unique situation, it is not uncommon for water polo to face two teams on the same day, with only about ten minutes of rest between each game.  
   Despite being a well-polished team, it's very rare to see spectators come out en masse to support water polo games.  There were seven parents at their first game. Some players have ideas on how to garner more crowds to enjoy the game.
  "You can come out to Waterpolo to watch me get hit in the face every game and watch me throw the ball to Mara and get hit in the face, goalie, and passer, like that's just it: you watch us get hit in the face for free like that's free entertainment right?" said junior goalie Jane Edwards.
  There have been plenty of new water polo coaches and staffing over the last four years, which can affect a team's competitiveness and team culture.
   "I just think that we got a great bunch of girls that are commutative to the sport and they're out here to learn, so it's a little more laid back because we're trying to rebuild after COVID kinda messed everything up. We're just trying to move forward, look forward, and move on out!" head coach Michael Brummet said.
   While practice and live execution in-game are very different, the girls team this year has successfully held themselves into a winning position. They are currently sitting at #3 in the 6A league of 9 teams, with a girl to girl team record of 3 – 3, a girl to boy team record of 4 – 2, and an impressive winning percentage of 0.500; eligible for most playoff tournaments.
  While the team had a ton of highlights to show for, some specific ones include shooter Tapasa recording 9+ goals across two back-to-back games against two teams from Grant High School; both of which ended in a Gopher victory. In the same game, goalie Edwards also recorded 16+ blocks, locking down the defense. Together, the two made a deadly pairing; with some striking similarities to their older brothers Ben Tapasa and Max Edwards who used to be great water polo players themselves, though there is a passive rivalry between the brothers and sisters.
  "I'm definitely better at goalie than my brother is so there's that, me and Mara have better chemistry, and overall we're definitely better than our brothers," said Edwards, which Tapasa agreed with "one-hundred percent."
   It's clear that this year is a great one for Gophers water polo, but things weren't always so bright. The girls team struggled a lot in the last two years, even having a non-winning record of 0.000 two years ago.
   "I remember my freshman year where we lost like, every single game and in my last year, we won our first game, and a couple of games, and this year we're improving so much. And I just know our future is gonna be good! We're gonna keep winning and doing good and we're gonna get more girls out so we can have a better team," junior shooter Mara Tapasa said.
   Waterpolo is a lesser-known sport at GHS, yet the athletes involved seem to have a true passion for the sport.
  "I actually joined water polo because a friend told me that I should do it for fun and it's a really fun experience! I had zero experience when I came last year and they're really inclusive in letting you learn, and you pick up fast. It's a really good starter sport too and very basic compared to soccer and football and I think it's a good environment, and even if you're not the best at the sport, you still get playing time," junior player Sasha Simpson said.
   Both Tapasa and Edwards have words of encouragement for other athletes who might get into water polo.
   "If you get hit in the face, it's ok. Just block the next one," said Edwards
   "Just laugh it off, most of the people think that water polo is a serious sport, but you get to know your team really good, and you get to bond with them like family, and it's honestly like the best, and if you lose, and least you lose together as family," Tapasa said.