Local Life Jacket Drive Seeks to Save Lives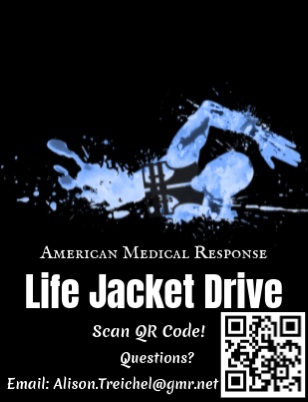 To help provide life jackets to the community water safety peer advocates and interns for Safe Kids Portland metro, a local nonprofit focused on injury prevention and AMR American medical response) has organized a  drive at AMR Portland, located at 1 SE 2nd Avenue.  They will be collecting money and life jackets Monday through Friday from 9 am to 4 pm.  Another drive is being held at AMR Clackamas, located at 12438 SE Capps, Monday through Friday from 8 am to 3 pm. Gresham locations are yet to be decided.  
   Before choosing locations students and organizers had been meeting every few weeks to go over the timeline and tasks for the drive.
   "We're working right now on creating a life jacket drive. We're collecting life jackets that are in good condition that our US Coast Guard approved to help make that available to community members who might not have access to life jackets,¨ Community Education Coordinator and a member of Safe Kids Portland Metro Alison Treichel said.
   Students work in groups to achieve different goals, such as reaching out to companies in the Gresham and Portland area to campaign with and ask for support with donations, any future plans for the group, and other areas regarding water safety. 
   ¨I work for AMR. We were awarded a water safety grant and are working with Gresham High School students right now to help promote water safety in the community,¨ Treichel said.
   There are six students and two organizers Alison Treichel and Lucie Drum, who are community education & public relations managers. Both organizers work with AMR or American Medical Response.
   ¨Our goal is to build as many life jacket kiosks as possible, especially for the kids for this summer,¨ freshman student intern Estela Dominguez-Calderon said.
   The kiosks will feature free life jackets in various locations surrounding the Gresham and Portland rivers and lakes.
   ¨My role in the group is designing flyers to promote the life jacket drive and creating a sticker design,¨ Dominguez-Calderon said.
   Water safety is important for everyone, especially children because of the potential dangers. 
    ¨We're hoping with this life jacket drive to kind of ease that burden and just make sure that anybody who wants or needs a life jacket has access to that,¨  Treichel said.
   The water in the surrounding area is really cold, there are rapids and currents, and even really strong swimmers can find themselves troubled in open water.
   ¨Life jackets are really important, especially if they don't know how to swim or even if they know how to. They can still be in danger either way near water or big bodies of water,¨ freshman Elideth Vera said. 
   Ensuring parents and caregivers have kids wearing life jackets around any type of unregulated body of water is the number one way to prevent drowning according to the CDC.
   ¨I hope my work will promote people to actually take safety precautions, especially with the new weather coming along,¨ Dominguez-Calderon said.