Chuy's Taco Shop welcomes customers to cheerful atmosphere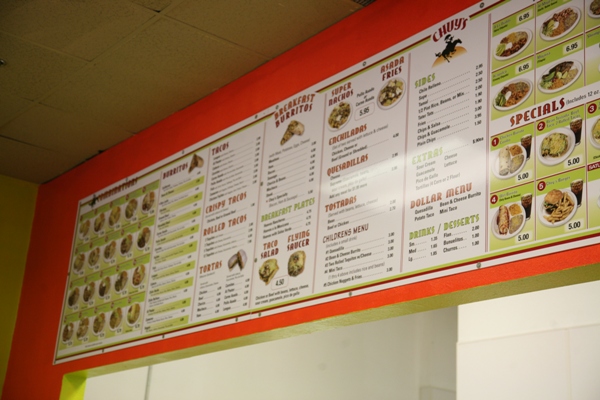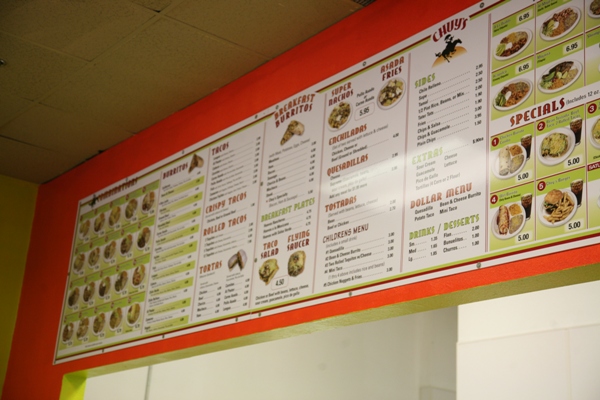 When walking through the doors of Chuy's Taco Shop, the bright colored walls, soft festive red lights and clean atmosphere draws customers in.
The small yet appealing restaurant recently opened on Aug. 23 and had approximately 20 customers coming in and out of the restaurant, due to it being a convenient location near the school.
The cafeteria-like set up is very spacious with red wooden chairs and table booths. A  half wall with lanterns hung on it separates part of the room with more tables and chairs on the other side. One unique aspect that customers will love is the neon green, red and orange walls, which surround the interior of the restaurant.
People are welcomed with a smile by the employees. After entering the space, it may take the customers some time to choose which food they want, due to the large menu. When every patron orders, they are handed a Chuy's Taco Shop stamp card which is good for a free bean burrito if the customer attends the restaurant ten times.
This gives customers the sense of being accepted into the colorful atmosphere by receiving a stamp card.
After the employees take the customer's order, they quickly say it in Spanish into an intercom for the cook to hear.
The noise level in the restaurant is slightly loud, due to two televisions being on the opposite side of the room. Consumers may want to sit away from the televisions, or they will need to speak up when talking to their tablemates.
While only waiting five to eight minutes, the food is freshly served on red trays,  and it looks just like the picture that the menu provides customers with.
The menu gives customers a variety of Mexican food from breakfast to dinner. Many items include: breakfast burritos, bean burritos, tacos, taquitos, enchiladas, quesadillas, nachos, taco salad and chips. Not only do they serve Mexican food, but they also serve seafood.
People may also be drawn to the scrumptious desserts, which are flan (custard), bunuelitos (fried doughnut ball) and warm, crisp churros.
Pricing should not be an issue for students because everything on the menu is from $1-8.
On the combination menu, the enchilada crunchy beef taco with the customer's choice of chicken, beef or cheese is a must. Customers are also provided with the choice of shredded or ground beef. This meal also comes with refried beans and Mexican rice. As a heads up, the enchilada is slightly spicy and could have less of a kick to it.
Under the burrito column, customers will find the $2 fish taco very tempting. Two, warm, corn tortillas wrap around a fish fillet topped off with tartar sauce, cabbage and pico de gallo. This gives customers the taste of seafood combined with Mexican food.
If people are craving something that has an authentic taste, then Chuy's Taco Shop's homemade corn tortilla chips will please them. They are warmly served in a red basket. These original chips are only $1.50.
Besides having just Mexican food on their menu, they also have a variety of items to choose from on the children's menu. This includes a free small drink and starts at anything from quesadillas to chicken nuggets, which are all $3.
Chuy's Taco Shop also has specials including a 12 oz. drink, and burritos and tacos for only $5. Students may also enjoy the dollar menu which includes a quesadilla, bean and cheese burrito, potato taco, and a mini taco.
If a customer is in the mood for a colorful refreshing drink, Chuy's Taco Shop has horchata (rice cinnamon drink), piñce (pineapple fruit), jamaica (hibiscus flavor tea) and tamarindo (tamarind fruit drink).
Chuy's Taco Shop is off of Eastman Parkway and is located near Dick's Sporting Goods, which is rather convenient  for students.
From entrance to exit, one cannot help but smile because of the friendly atmosphere and delicious food. Family, friends and students are welcome anytime whether they want to hang out, try the fresh authentic food or just enjoy the colorful restaurant.