New beginnings for gopher football: "Diamonds in the Dirt"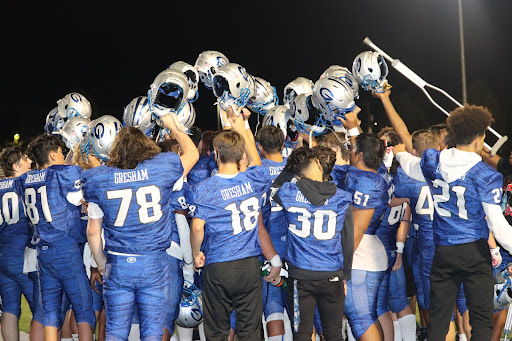 The cheering of a crowd can be intoxicating! In the right environment, it can shift the momentum of a losing team, steel their resolve, and sometimes help the team win in an otherwise hopeless situation. The environment is much like a car, with the crowd acting as the fuel while the players and coaches make up the engine and wheel. Together, there are no limits to what can be achieved. 
   While it's known that Gresham High's football teams have struggled to win games in the past, many fans have held out hope for this year's varsity team, with the near-collective belief that with a new coaching staff and roster, they would finally yield a winning record.
   "I think they have a good chance but it's not looking too good right now. They just gotta dial in," junior Amari Johnson said.  
   Also, with new coaches and players comes a unique team culture that affects everyone involved. 
   "It's a new era, new culture and we're here and ready for it! This 1st generation's something, we got it all! We've got our comradery, watched our plays, went over 'em, got hard work (and) dedication!" sophomore wide receiver & running back Larone Artego said.
   Despite a great season opener at home against Nelson High; beating them 26 – 6, the Gophers have yet to capture that same momentum again, as they currently sit at #8 in the 6A league of nine teams, have a team record of 1 – 4, and a winning percentage of 0.200.
   t's apparent that the team is struggling, and is easily recognized amongst players and fans alike. However, as mentioned before, team culture matters and it's clear that despite some tough losses, it still hasn't stopped them from pushing forward as made clear by senior center & defensive tackle Morten Tenry.
   "Sorry to disappoint.. I mean, this game was tough, and more games like this will be tough too, but we just gotta keep grinding, and moving forward, it's alright, we'll shake it off," Tentry said after a Sam Barlow loss at a recent away game. 
   Tenry believes that although the season's been tough on them, not all hope is lost and simply pushing through the hard parts will yield rewards for everyone later. 
   Added to that, the coaches also had plenty to say when given similar questions. 
   "We're gonna keep moving forward, marching forward, digging deep and doing what we gotta do! We just gotta rebound from this L right here, and we'll be ok.. We'll follow through, and overcome, plain and simple," lineman coach La'Mar Winston Jr said following a 51- 30 point loss to David Douglas.
   Meanwhile, Offensive coordinator Cesar Martinez focused more so on ensuring that the players were enjoying themselves more than anything. 
   "..I think just having fun, coming out there and just executing, believing in what they can do and just continuing to grow on what they're trying to do. They're heading in the right direction, we gotta clean some stuff up, but we'll keep on going, we're an explosive offense, and we're gonna come out there and continue to do that!" Martinez said.
   All in all, despite being 8th in the 6A league standings, there are still plenty of highlights and bright spots from the season; namely the impressive resilience the team has shown after their losses.
   Some highlights of the season include the performance of Junior running back & linebacker Jaden Mitchell who scored a touchdown off of a kick return in the 1st quarter in 14 seconds across the entire Nelson defense in the first game of the season. 
   Another huge highlight was during the loss to David Douglas when the Gophers scored a whopping 5 touchdowns in 5 minutes of the 4th quarter bringing their score up from 0, to 30.
   In the end, it's clear that even if the season was filled with dirt, that there were plenty of diamonds in the rough; be it memories, learning experiences, team bonding, or even happiness from spectators. There's something magical about being around the field, and it's clear that no matter what, that at least the football team themselves cherishes one another as teammates.
   "Well, I'm happy for my boy Oscar for his big blocks, and our line, thank you for our line too! I'm proud of our quarterback, he can throw, and Brody for making the catches, and our defense is good, yeah we all around good," Mitchell said.